Rhoades Rogues
57th Intake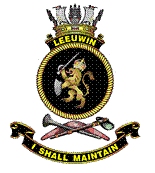 Captain Stephen Bowater
A proud Victorian, Stephen Bowater entered the RAN as a 15 year old Junior Recruit in 1976. By 1989 he had been promoted to Chief Petty Officer Combat Systems Manager (Aircraft Controller). Highlights of his time as a sailor include a Peter Mitchell RAN Instructor of the Year award and two Middle East deployments in support of USN Battle Groups during the Tehran US Embassy hostage crisis.
​
Seeking more challenges in 1993 he was commissioned as a Sub-Lieutenant and by 1995 achieved his Bridge Watch-keeping Certificate in a Destroyer. Lieutenant Bowater graduated as a Principal Warfare Officer (PWO) - Surface Warfare in 1997 and joined HMAS Newcastle as the PWO Anti-Submarine Warfare (PWO ASW). In 1998, he joined the Destroyer HMAS Perth as the Task Group PWO ASW.
In 1999 Lieutenant Bowater was loaned to the Royal Navy where he served in four Type 23 ASW Frigates and deployed to the Northern Arabian Gulf to support UK Air Operations against Iraq in 2000. Promoted to Lieutenant Commander in 2000, he graduated from the NATO Force ASW Course before joining the Royal Navy School of Maritime Operations as the Senior ASW PWO Instructor in 2001.
​
On return to Australia in 2003, Lieutenant Commander Bowater joined Sea Training Group as the Fleet ASW and Electronic Warfare (EW) Officer where he was awarded a Chief of Defence Force Commendation (Group Award) for anti-Iraq operational workups. In 2004, he joined HMAS Adelaide as the Executive Officer where he deployed operationally to the Northern Arabian Gulf, East Timor and numerous Border Protection patrols.
Promoted to Commander, he graduated from the Australian Command and Staff Course in December 2007. In late 2007 Commander Bowater joined Navy Headquarters as the Director of Naval Warfare Professional Requirements.
​
In January 2008 Commander Bowater was awarded the Medal of the Order of Australia for service in the Field of Operations.
​
In November 2008, Commander Bowater assumed command of the Anzac Class Frigate, HMAS Arunta. Highlights of his command include; the Christmas 2008 rescue of a French solo Yachtsman deep in the Southern Ocean, achieving the Voyager Trophy for excellence in ASW, conducting Border Protection duties and completing successful deployments to South East Asia and New Zealand. Commander Bowater very reluctantly relinquished command of Arunta in June 2010 to assume duties as the Director of Studies – Navy at the Australian Command and Staff College.
​
During 2012 he spent a busy year as the Junior Officer's Poster at the Naval People Career Management Agency.
​
In 2013 he was promoted to Captain and until November 2013 was Director of Maritime Operations within Navy Strategic Command.
​
Captain Bowater assumed command of the Navy's Sailor Training Establishment, HMAS Cerberus, on the Mornington Peninsula, Victoria in December 2013.
​
Captain Bowater holds a Bachelors Degree and two Masters Degrees.