Rhoades Rogues
57th Intake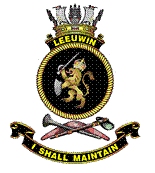 2020 Jr Reunion - Perth WA - Welcome
"Take me home" - That is the war cry from Leeuwin Barracks to the former Junior Recruits (JR's) of HMAS Leeuwin (known as Tingira Boys) for the second weekend in July 2020, celebrating 60 years since the first intake of boys entered on 13 July 1960. With a pending government sale of the Leeuwin property due in 2023, the base will never be the same after the new owners are sure to reshape her with modern day developments on this valuable site on the banks of the Swan River, East Fremantle. This is one of the main reason many JR's will come to this 2020 JR Reunion from all corners of the globe, to be amongst their former shipmates and place their marching shoes on their parade ground for the last time as they knew it from their boyhood days at 15 years of age when they first joined the navy of many decades past.
​
2020 JR REUNION - The 'meet and greet' opening event on Thursday 9 July is set to commence the five day celebration with a ceremonial 'Raise the Flag & Ring the Bell' on board the glorious Sail Training Ship (STS) LEEUWIN, at B Shed, Victoria Quay, Fremantle.
​
Friday 10 July - 'Tingira Boys - Leeuwin naval Salute' at Leeuwin Barracks with the RAN band to assist proceedings as they present a final march past of all former Junior Recruits in attendance when they salute the Tingira flag and the new JR Memorial at Leeuwin Barracks. Followed by a base inspection, together with their former weekend local sponsors, several invited local Fremantle and members of the RAN navy ranks who will be visiting the shores with a few visiting ships due to be in port around the same period.
​
The Tingira boys will celebrate their own 'Intake Reunions' over the weekend Saturday and Sunday period mixing with opportunities of sailing to sea along the WA coastline onboard STS Leeuwin, Ascot racecourse, local AFL games, complete with an all denominations church service in downtown Fremantle on Sunday morning at 10am, details to be provided later when fixtures for racing and AFL are released after November this year.
​
The 60th birthday party 'Diamond Jubilee - Reunion Dinner - Happy Birthday Leeuwin Boys' will be the finale event of the weekend on Monday 13 July. Perths newest corporate stakeholder, OPTUS Stadium, on the city outskirts will play host to the Tingira Boys for the evening. Celebrate their last grand hurrah to HMAS Leeuwin after a 60 year period as they commenced their naval career and their wonderful memories of the Western Australian experience over many decades with entertainment from the RAN Rock band, lead guitarist Glen Harrison and Australia's leading singing artist Miss Tingira, Amber Lawrence.
You will need to click on the link below to Sign Up prior to purchasing any events.
Events Program
​
After you have signed up you can then purchase tickets.
Book your tickets today!
Click on the links below for 2020 JR Reunion Events