Rhoades Rogues
57th Intake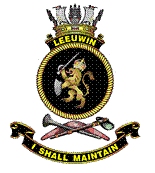 Welcome to all serving and retired members of the Defence family, including civilians to this website, and hope you enjoy your visit now and in the future. Please feel free to contact us to assist in growing the information of our database. The intention of this website is to reunite members of the 57th intake from HMAS LEEUWIN. If you are an ex 57th JR and would like to gain access to this website, please go to the "Contact" section and fill out an email with your details to the webmaster. We must also reflect upon those who are no longer with us due to unfortunate circumstances.
May they Rest in Peace.
This 57th intake was known as Rhoades Rogues and functioned from 11th October 1976 until 20th September 1977 under the command of Leut Haynes, Leut Taylor, CPO Peard, PO Green, LS Fraser and AB Anning.